The Soundcloud app will allow you to embed tracks from Soundcloud on your site. 
After you've installed the Soundcloud app, go to the "Apps" tab in the menu bar, and choose "Soundcloud"

In the title and content field, enter your page content. Then, choose how many songs you would like to include on the page. You can include up to 10 songs.
 Open Soundcloud in a new window, and search for a song you want to include on your page. 
Click "Share" on the track.
 From the pop-up, first copy the "Share" URL, and paste it into the first URL field provided.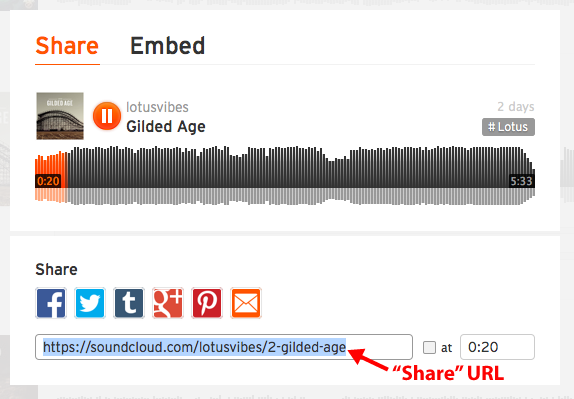 Then, click on the "Embed" tab, and copy the URL there. Paste the URL into a text box, and copy out ONLY the part which follows the "url=" and ends just before the semicolon (;). The copied part should start with "https" and end with "&"

Paste the code into the second field provided.
 Do this for each song you want to include on your page. Don't forget to SAVE!!!
For more information on the SoundCloud Application view our Marketplace.